Images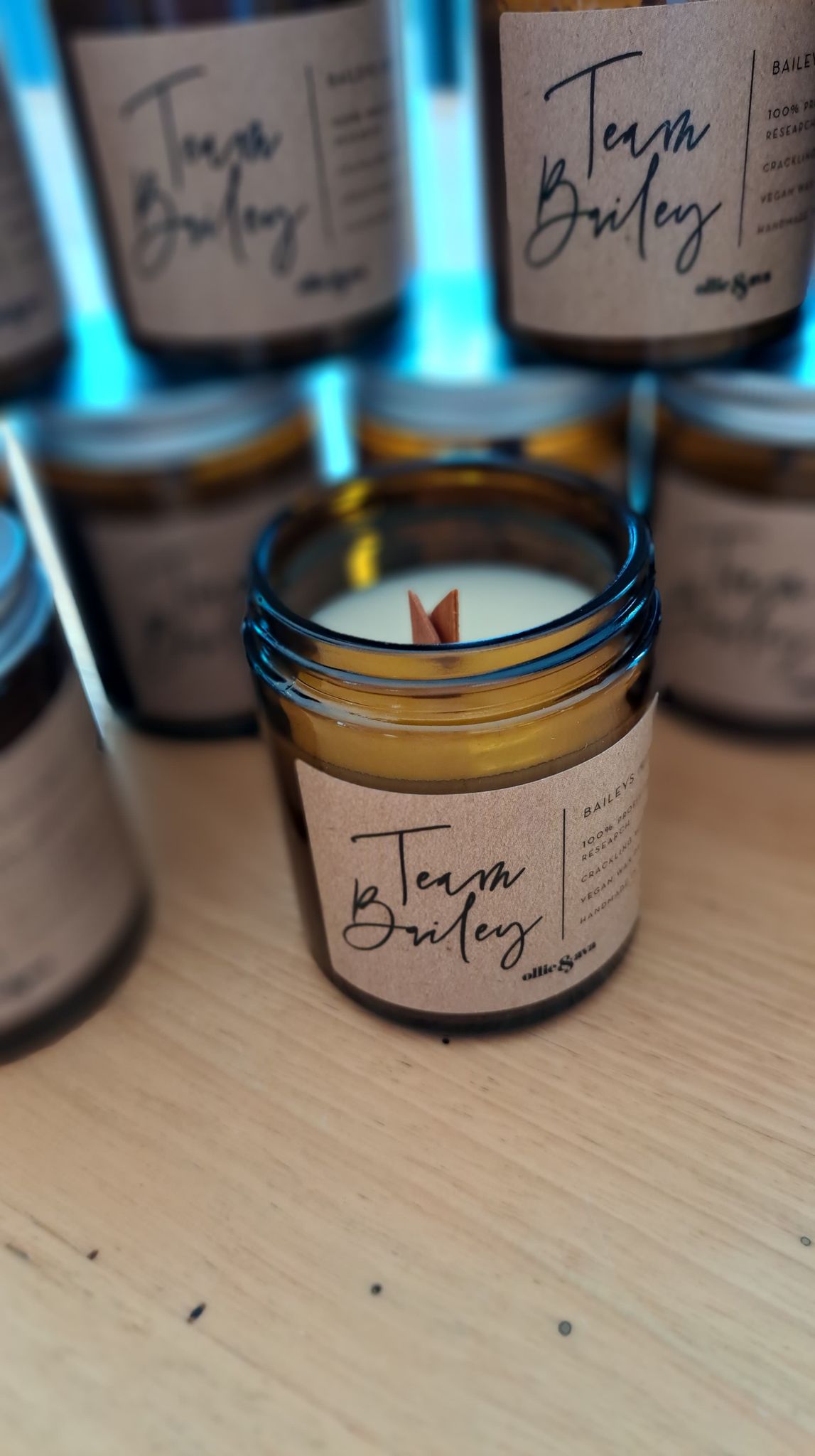 Team Bailey Candle
Tax included.
Shipping
calculated at checkout.
Description
BAILEY'S IRISH CREAM CANDLES now available , please help support Team Bailey. Pickup is available from Victorias For Flowers & Gifts or purchase here for our shipping option. 
Enticingly rich in aroma our limited edition 'Bailey's Irish Cream' candle is the perfect balance of aged Irish whiskey. Woven with fresh Irish dairy cream, a hint of cocoa and vanilla. Decadent and delicious with notes of coffee and chocolate. A candle lovers dream.
Team Bailey are raising funds for Parkinson's research two ways this year.
We are climbing a mountain where you can donate to
https://pointtopinnacle2022.grassrootz.com/shakeitup/team-bailey?utm_source=gr-email&utm_medium=email&utm_content=control&utm_campaign=PointtoPinnacle-2022_achievements_raised-%24100&utm_term=Workflow&vero_id=fundraiser-175441&vero_conv=RPXTW_rFPukmw3Xjk2Cb2A8ozlou8ctgnTlUx3xGvqwUNznuWkdCApXZxBBsfAFz3LFKrb6wLpyw-hvd_PiplReeO02GU8mV6bgiOWwFwhaa
Or purchase a candle where 100% of profit goes to Parkinson's research.

Thank you for your continued support 🙏
#shakeitupaustraliafoundation #shakeitupau
document.addEventListener('DOMContentLoaded', function() { function isIE() { const ua = window.navigator.userAgent; const msie = ua.indexOf('MSIE '); const trident = ua.indexOf('Trident/'); return (msie > 0 || trident > 0); } if (!isIE()) return; const hiddenInput = document.querySelector('#product-form-template--15424738132200__main input[name="id"]'); const noScriptInputWrapper = document.createElement('div'); const variantSwitcher = document.querySelector('variant-radios[data-section="template--15424738132200__main"]') || document.querySelector('variant-selects[data-section="template--15424738132200__main"]'); noScriptInputWrapper.innerHTML = document.querySelector('.product-form__noscript-wrapper-template--15424738132200__main').textContent; variantSwitcher.outerHTML = noScriptInputWrapper.outerHTML; document.querySelector('#Variants-template--15424738132200__main').addEventListener('change', function(event) { hiddenInput.value = event.currentTarget.value; }); });
{ "@context": "http://schema.org/", "@type": "Product", "name": "Team Bailey Candle", "url": "https:\/\/www.victoriasforflowers.com.au\/products\/team-bailey-candle", "image": [ "https:\/\/www.victoriasforflowers.com.au\/cdn\/shop\/products\/Candle_1147x.jpg?v=1664008156" ], "description": "BAILEY'S IRISH CREAM CANDLES now available , please help support Team Bailey. Pickup is available from Victorias For Flowers \u0026amp; Gifts or purchase here for our shipping option. \nEnticingly rich in aroma our limited edition 'Bailey's Irish Cream' candle is the perfect balance of aged Irish whiskey. Woven with fresh Irish dairy cream, a hint of cocoa and vanilla. Decadent and delicious with notes of coffee and chocolate. A candle lovers dream.\nTeam Bailey are raising funds for Parkinson's research two ways this year.We are climbing a mountain where you can donate to\nhttps:\/\/pointtopinnacle2022.grassrootz.com\/shakeitup\/team-bailey?utm_source=gr-email\u0026amp;utm_medium=email\u0026amp;utm_content=control\u0026amp;utm_campaign=PointtoPinnacle-2022_achievements_raised-%24100\u0026amp;utm_term=Workflow\u0026amp;vero_id=fundraiser-175441\u0026amp;vero_conv=RPXTW_rFPukmw3Xjk2Cb2A8ozlou8ctgnTlUx3xGvqwUNznuWkdCApXZxBBsfAFz3LFKrb6wLpyw-hvd_PiplReeO02GU8mV6bgiOWwFwhaa\nOr purchase a candle where 100% of profit goes to Parkinson's research.Thank you for your continued support 🙏\n#shakeitupaustraliafoundation #shakeitupau", "brand": { "@type": "Thing", "name": "Victoria's Flowers \u0026 Gifts" }, "offers": [{ "@type" : "Offer","availability" : "http://schema.org/InStock", "price" : 30.0, "priceCurrency" : "AUD", "url" : "https:\/\/www.victoriasforflowers.com.au\/products\/team-bailey-candle?variant=43874136883432" } ] }