Images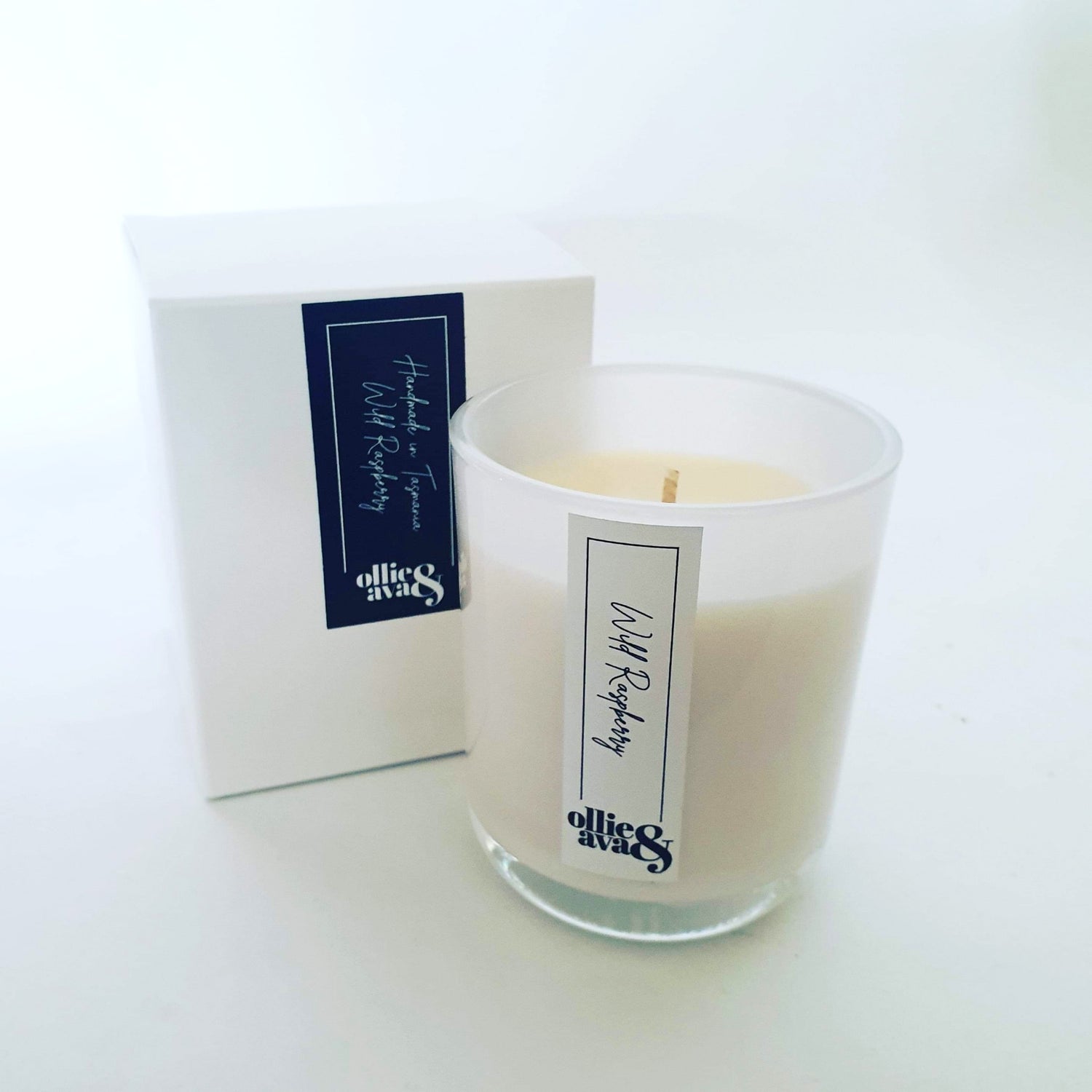 Ollie & Ava Wild Raspberry
Tax included.
Shipping
calculated at checkout.
Description
Beautiful Tasmanian made scented candles. Made with an exclusive blend of coconut and soy wax, these quality candles are not only long lasting in both flame and scent, but also elegantly styled to look beautiful in any environment..
180g and up to 35 hours burn time.
document.addEventListener('DOMContentLoaded', function() { function isIE() { const ua = window.navigator.userAgent; const msie = ua.indexOf('MSIE '); const trident = ua.indexOf('Trident/'); return (msie > 0 || trident > 0); } if (!isIE()) return; const hiddenInput = document.querySelector('#product-form-template--15424738132200__main input[name="id"]'); const noScriptInputWrapper = document.createElement('div'); const variantSwitcher = document.querySelector('variant-radios[data-section="template--15424738132200__main"]') || document.querySelector('variant-selects[data-section="template--15424738132200__main"]'); noScriptInputWrapper.innerHTML = document.querySelector('.product-form__noscript-wrapper-template--15424738132200__main').textContent; variantSwitcher.outerHTML = noScriptInputWrapper.outerHTML; document.querySelector('#Variants-template--15424738132200__main').addEventListener('change', function(event) { hiddenInput.value = event.currentTarget.value; }); });
{ "@context": "http://schema.org/", "@type": "Product", "name": "Ollie \u0026 Ava Wild Raspberry", "url": "https:\/\/www.victoriasforflowers.com.au\/products\/copy-of-ollie-ava-wild-raspberry", "image": [ "https:\/\/www.victoriasforflowers.com.au\/cdn\/shop\/products\/PicsArt_09-01-12.55.21_2852x.jpg?v=1638846489" ], "description": "Beautiful Tasmanian made scented candles. Made with an exclusive blend of coconut and soy wax, these quality candles are not only long lasting in both flame and scent, but also elegantly styled to look beautiful in any environment..\n180g and up to 35 hours burn time.", "brand": { "@type": "Thing", "name": "Ollie \u0026 Ava" }, "offers": [{ "@type" : "Offer","availability" : "http://schema.org/InStock", "price" : 29.95, "priceCurrency" : "AUD", "url" : "https:\/\/www.victoriasforflowers.com.au\/products\/copy-of-ollie-ava-wild-raspberry?variant=42170099302632" } ] }