Images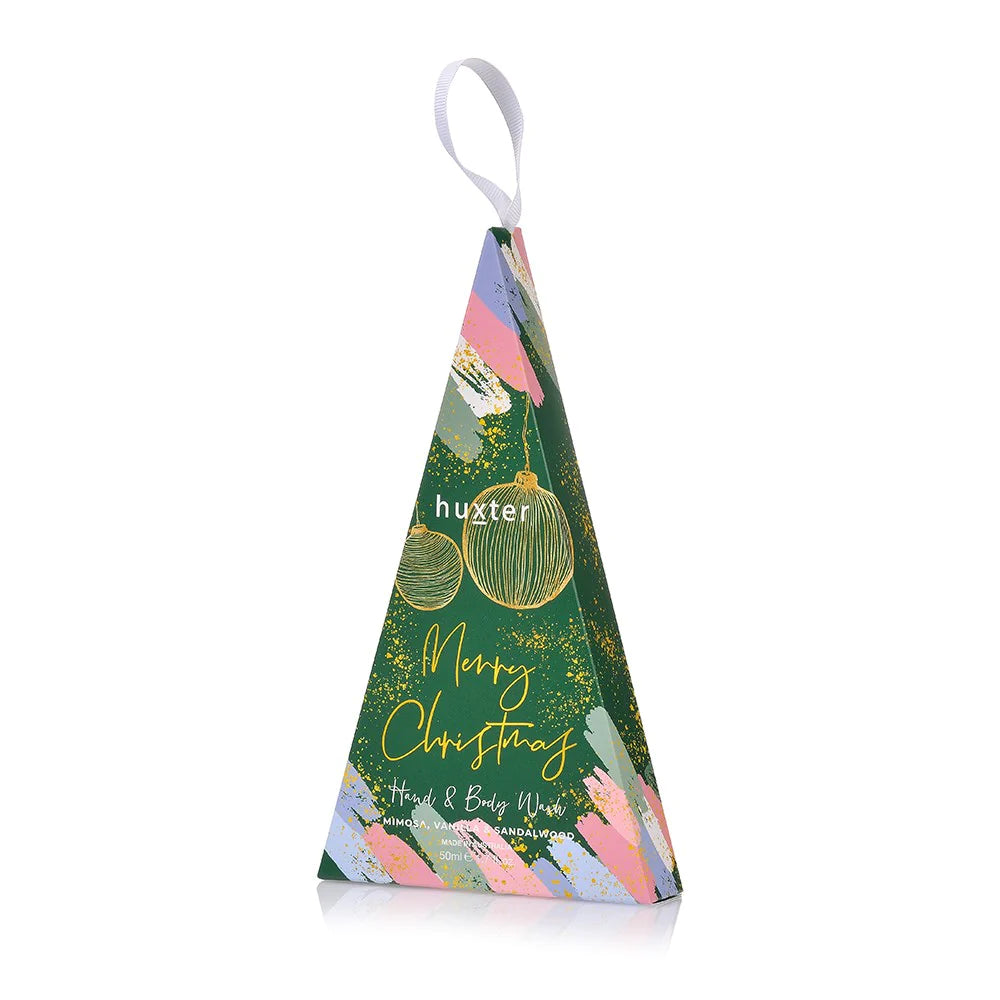 Hanging Decoration Triangle - Green Xmas Baubles - Hand & Body Wash 50ml
Tax included.
Shipping
calculated at checkout.
Description
Specially formulated for a gentle lather, skin will be left soft, cleansed and refreshed with our everyday, luxury hand and body wash.
Scented with our exclusive, limited-edition Mimosa, Vanilla & Sandalwood fragrance blend for an indulgent, aromatic treat. Perfect Gift for someone this Christmas.
*No parabens, no artificial colours, no sulphates, no mineral oils, not tested on animals.

Suitable for all skin types.
document.addEventListener('DOMContentLoaded', function() { function isIE() { const ua = window.navigator.userAgent; const msie = ua.indexOf('MSIE '); const trident = ua.indexOf('Trident/'); return (msie > 0 || trident > 0); } if (!isIE()) return; const hiddenInput = document.querySelector('#product-form-template--15424738132200__main input[name="id"]'); const noScriptInputWrapper = document.createElement('div'); const variantSwitcher = document.querySelector('variant-radios[data-section="template--15424738132200__main"]') || document.querySelector('variant-selects[data-section="template--15424738132200__main"]'); noScriptInputWrapper.innerHTML = document.querySelector('.product-form__noscript-wrapper-template--15424738132200__main').textContent; variantSwitcher.outerHTML = noScriptInputWrapper.outerHTML; document.querySelector('#Variants-template--15424738132200__main').addEventListener('change', function(event) { hiddenInput.value = event.currentTarget.value; }); });
{ "@context": "http://schema.org/", "@type": "Product", "name": "Hanging Decoration Triangle - Green Xmas Baubles - Hand \u0026 Body Wash 50ml", "url": "https:\/\/www.victoriasforflowers.com.au\/products\/copy-of-huxter-christmas-travel-trio-gift-box-set-1", "image": [ "https:\/\/www.victoriasforflowers.com.au\/cdn\/shop\/files\/R510114shot1_1000x.webp?v=1700443585" ], "description": "Specially formulated for a gentle lather, skin will be left soft, cleansed and refreshed with our everyday, luxury hand and body wash.\nScented with our exclusive, limited-edition Mimosa, Vanilla \u0026amp; Sandalwood fragrance blend for an indulgent, aromatic treat. Perfect Gift for someone this Christmas.\n*No parabens, no artificial colours, no sulphates, no mineral oils, not tested on animals.\nSuitable for all skin types.", "brand": { "@type": "Thing", "name": "Huxter" }, "offers": [{ "@type" : "Offer","availability" : "http://schema.org/InStock", "price" : 15.95, "priceCurrency" : "AUD", "url" : "https:\/\/www.victoriasforflowers.com.au\/products\/copy-of-huxter-christmas-travel-trio-gift-box-set-1?variant=45142824419560" } ] }