Images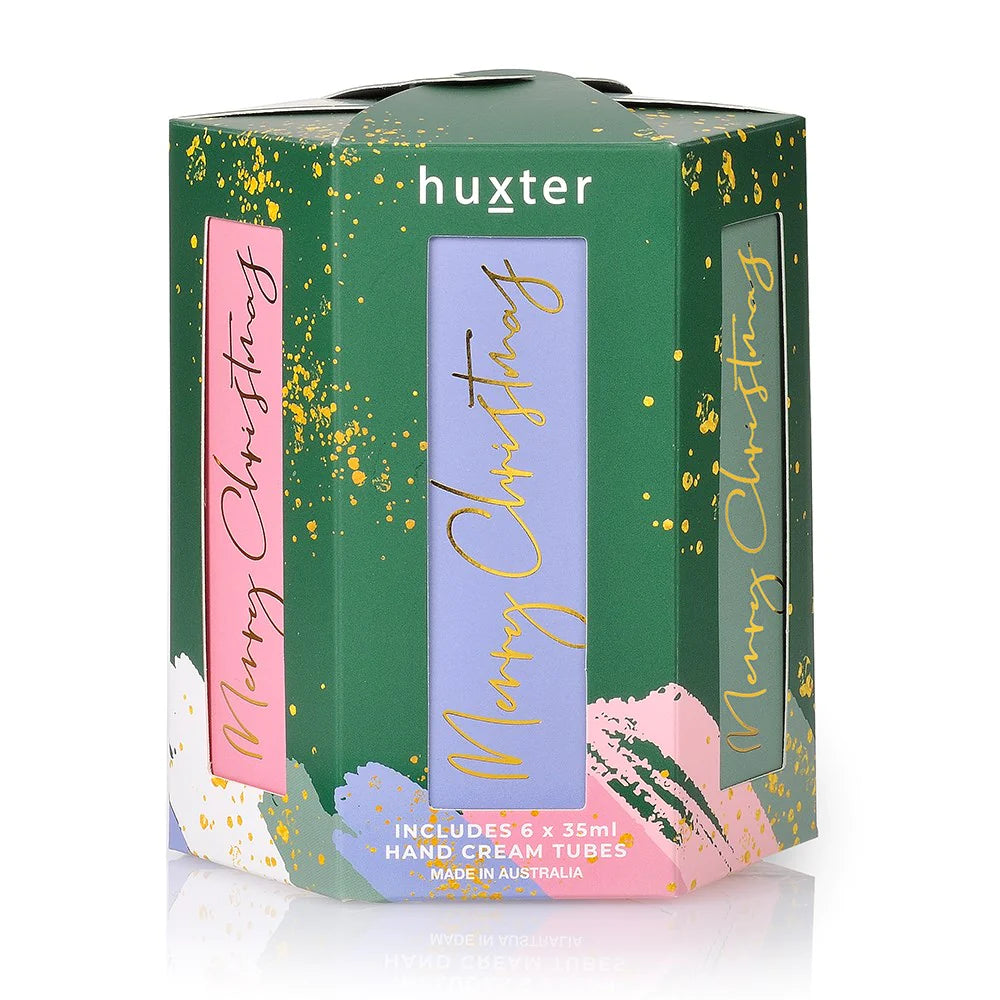 Mini Triangle Bon Bon Gift Box - Green Xmas Baubles - H/Cream 35ml x 6
Tax included.
Shipping
calculated at checkout.
Description
Huxter's New Mini Triangle Gift Box includes 6 Mini Bon Bons each containing a 35ml Hand Cream in 6 various Huxter fragrances. Perfect gift for everyone this Christmas.
Enriched with a blend of shea butter and almond oil to deeply nourish and hydrate the skin. Keep hands soft and nourished with this indulgent hand cream enriched with almond oil, coconut oil, shea and cocoa butter.
document.addEventListener('DOMContentLoaded', function() { function isIE() { const ua = window.navigator.userAgent; const msie = ua.indexOf('MSIE '); const trident = ua.indexOf('Trident/'); return (msie > 0 || trident > 0); } if (!isIE()) return; const hiddenInput = document.querySelector('#product-form-template--15424738132200__main input[name="id"]'); const noScriptInputWrapper = document.createElement('div'); const variantSwitcher = document.querySelector('variant-radios[data-section="template--15424738132200__main"]') || document.querySelector('variant-selects[data-section="template--15424738132200__main"]'); noScriptInputWrapper.innerHTML = document.querySelector('.product-form__noscript-wrapper-template--15424738132200__main').textContent; variantSwitcher.outerHTML = noScriptInputWrapper.outerHTML; document.querySelector('#Variants-template--15424738132200__main').addEventListener('change', function(event) { hiddenInput.value = event.currentTarget.value; }); });
{ "@context": "http://schema.org/", "@type": "Product", "name": "Mini Triangle Bon Bon Gift Box - Green Xmas Baubles - H\/Cream 35ml x 6", "url": "https:\/\/www.victoriasforflowers.com.au\/products\/copy-of-huxter-christmas-travel-trio-gift-box-set", "image": [ "https:\/\/www.victoriasforflowers.com.au\/cdn\/shop\/files\/R510115_1000x.webp?v=1700443262" ], "description": "Huxter's New Mini Triangle Gift Box includes 6 Mini Bon Bons each containing a 35ml Hand Cream in 6 various Huxter fragrances. Perfect gift for everyone this Christmas.\nEnriched with a blend of shea butter and almond oil to deeply nourish and hydrate the skin. Keep hands soft and nourished with this indulgent hand cream enriched with almond oil, coconut oil, shea and cocoa butter.", "brand": { "@type": "Thing", "name": "Huxter" }, "offers": [{ "@type" : "Offer","availability" : "http://schema.org/InStock", "price" : 39.95, "priceCurrency" : "AUD", "url" : "https:\/\/www.victoriasforflowers.com.au\/products\/copy-of-huxter-christmas-travel-trio-gift-box-set?variant=45142817145064" } ] }