Images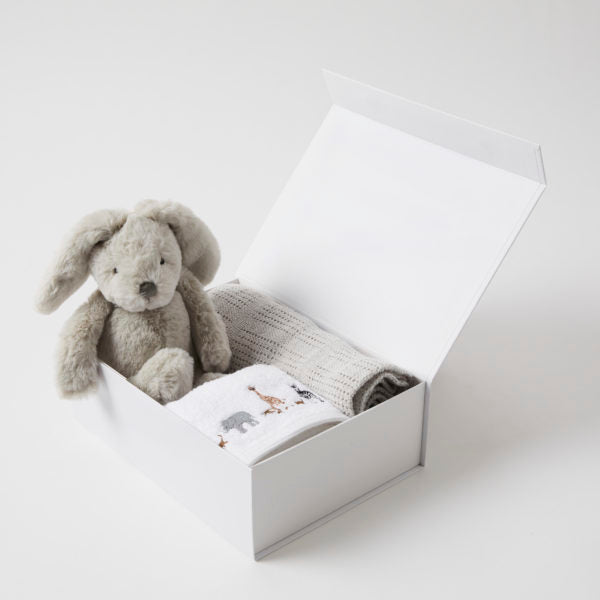 Grey Bunny Hamper Gift Set
Tax included.
Shipping
calculated at checkout.
Description
This sweet little bundle is the perfect way to spread joy and say 'congratulations' to new or expectant parents. Designed for both parents and bubs, this hamper gift set includes:
A Lovable Little Bunny – The perfect companion for newborns. Little ones will enjoy the feel of its incredibly soft fur, thanks to its ultra-plush fabrics and child-safe trims, making it great for cuddling!
A Grey Cellular Cotton Baby Blanket – This gorgeous 100% cotton blanket is lightweight and breathable, making it ideal for use in the cot or pram to keep baby warm and cosy during their naps. Featuring a tight weaving that will not catch young fingers.
The Zoo Life Face Washer – A soft and luscious baby face washer featuring a playful collection of embroidered zoo animals that will delight any baby. Designed in-house, exclusive to Pilbeam Living.
A Keepsake Gift Box – Beautifully packed in a white reusable gift box with a grey ribbon that will make your gift unforgettable!
document.addEventListener('DOMContentLoaded', function() { function isIE() { const ua = window.navigator.userAgent; const msie = ua.indexOf('MSIE '); const trident = ua.indexOf('Trident/'); return (msie > 0 || trident > 0); } if (!isIE()) return; const hiddenInput = document.querySelector('#product-form-template--15424738132200__main input[name="id"]'); const noScriptInputWrapper = document.createElement('div'); const variantSwitcher = document.querySelector('variant-radios[data-section="template--15424738132200__main"]') || document.querySelector('variant-selects[data-section="template--15424738132200__main"]'); noScriptInputWrapper.innerHTML = document.querySelector('.product-form__noscript-wrapper-template--15424738132200__main').textContent; variantSwitcher.outerHTML = noScriptInputWrapper.outerHTML; document.querySelector('#Variants-template--15424738132200__main').addEventListener('change', function(event) { hiddenInput.value = event.currentTarget.value; }); });
{ "@context": "http://schema.org/", "@type": "Product", "name": "Grey Bunny Hamper Gift Set", "url": "https:\/\/www.victoriasforflowers.com.au\/products\/copy-of-baby-boy-hamper", "image": [ "https:\/\/www.victoriasforflowers.com.au\/cdn\/shop\/products\/BunnyHamper_600x.jpg?v=1674451181" ], "description": "This sweet little bundle is the perfect way to spread joy and say 'congratulations' to new or expectant parents. Designed for both parents and bubs, this hamper gift set includes:\nA Lovable Little Bunny – The perfect companion for newborns. Little ones will enjoy the feel of its incredibly soft fur, thanks to its ultra-plush fabrics and child-safe trims, making it great for cuddling!A Grey Cellular Cotton Baby Blanket – This gorgeous 100% cotton blanket is lightweight and breathable, making it ideal for use in the cot or pram to keep baby warm and cosy during their naps. Featuring a tight weaving that will not catch young fingers.The Zoo Life Face Washer – A soft and luscious baby face washer featuring a playful collection of embroidered zoo animals that will delight any baby. Designed in-house, exclusive to Pilbeam Living.A Keepsake Gift Box – Beautifully packed in a white reusable gift box with a grey ribbon that will make your gift unforgettable!", "brand": { "@type": "Thing", "name": "Victoria's Flowers \u0026 Gifts" }, "offers": [{ "@type" : "Offer","availability" : "http://schema.org/InStock", "price" : 89.95, "priceCurrency" : "AUD", "url" : "https:\/\/www.victoriasforflowers.com.au\/products\/copy-of-baby-boy-hamper?variant=44243517538536" } ] }