Images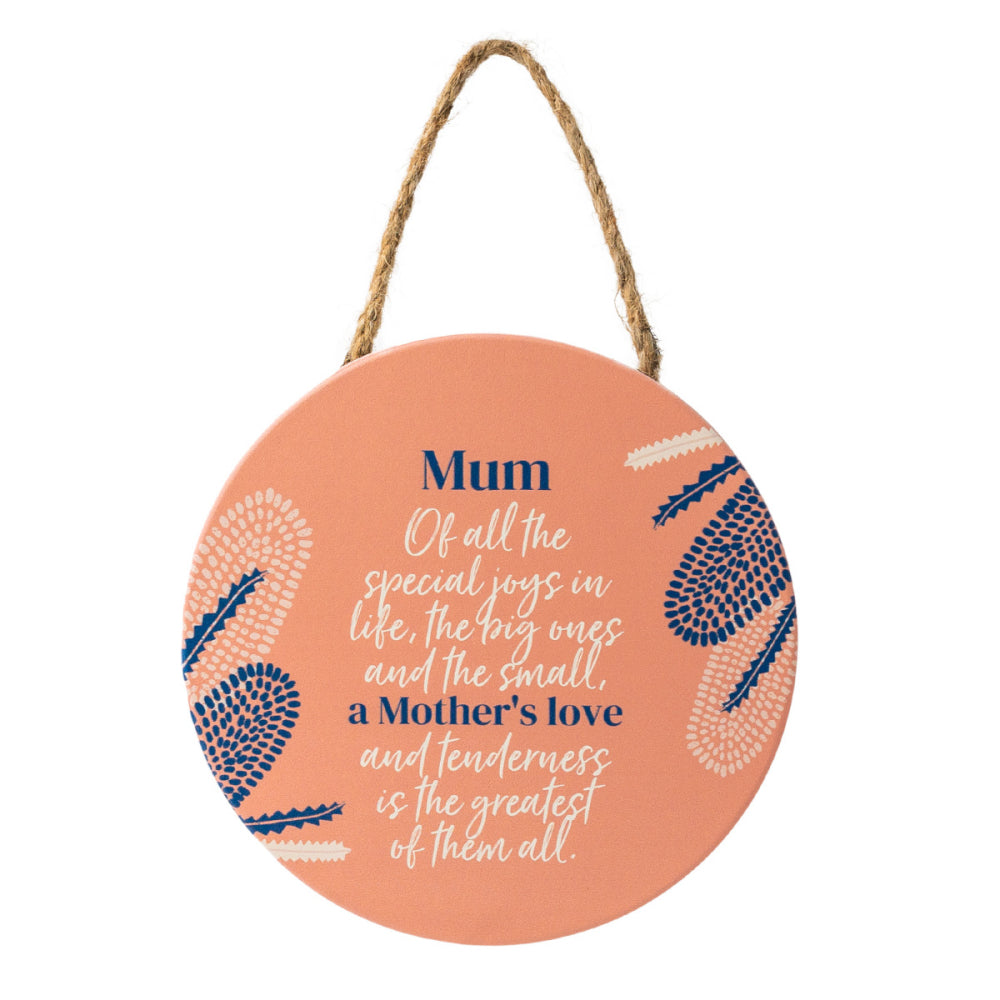 Mum Love Hanging Verse
Tax included.
Shipping
calculated at checkout.
Description
Mum Love Hanging Verse
 This stunning take on the ever-popular Australiana theme features incredible native Australian and New Zealand floral illustrations, inspired by popular demand. Accentuating splashes of navy against a contrasting backdrop of peachy, apricot and earth tones, these hues are perfect for the home and double as amazing gift.
Packaging: Full colour gift box/li>
Size: 15 x 1 x 15cm

 
document.addEventListener('DOMContentLoaded', function() { function isIE() { const ua = window.navigator.userAgent; const msie = ua.indexOf('MSIE '); const trident = ua.indexOf('Trident/'); return (msie > 0 || trident > 0); } if (!isIE()) return; const hiddenInput = document.querySelector('#product-form-template--15424738132200__main input[name="id"]'); const noScriptInputWrapper = document.createElement('div'); const variantSwitcher = document.querySelector('variant-radios[data-section="template--15424738132200__main"]') || document.querySelector('variant-selects[data-section="template--15424738132200__main"]'); noScriptInputWrapper.innerHTML = document.querySelector('.product-form__noscript-wrapper-template--15424738132200__main').textContent; variantSwitcher.outerHTML = noScriptInputWrapper.outerHTML; document.querySelector('#Variants-template--15424738132200__main').addEventListener('change', function(event) { hiddenInput.value = event.currentTarget.value; }); });
{ "@context": "http://schema.org/", "@type": "Product", "name": "Mum Love Hanging Verse", "url": "https:\/\/www.victoriasforflowers.com.au\/products\/copy-of-baby-blue-verse-1", "image": [ "https:\/\/www.victoriasforflowers.com.au\/cdn\/shop\/products\/mum_1000x.jpg?v=1681715427" ], "description": " \nMum Love Hanging Verse\n This stunning take on the ever-popular Australiana theme features incredible native Australian and New Zealand floral illustrations, inspired by popular demand. Accentuating splashes of navy against a contrasting backdrop of peachy, apricot and earth tones, these hues are perfect for the home and double as amazing gift.\n\nPackaging: Full colour gift box\/li\u0026gt;\nSize: 15 x 1 x 15cm \n\n", "brand": { "@type": "Thing", "name": "Victoria's Flowers \u0026 Gifts" }, "offers": [{ "@type" : "Offer","availability" : "http://schema.org/InStock", "price" : 14.95, "priceCurrency" : "AUD", "url" : "https:\/\/www.victoriasforflowers.com.au\/products\/copy-of-baby-blue-verse-1?variant=44440990056680" } ] }