Images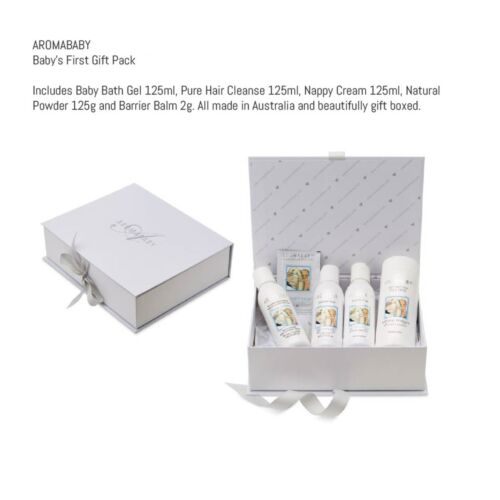 Aromababy
Tax included.
Shipping
calculated at checkout.
Description
Aromababy Baby's First Gift Pack
From Australia's first natural baby brand, Aromababy.
Aromababy Natural Powder with Organic Lavender - Our Natural Powder made with organic lavender to help to care for delicate skin and absorb moisture after each nappy change. 100% natural. Talc free.
Aromababy Moisturising Nappy Change Cream with Organic Chamomile - Enriched with cold pressed sweet almond oil, cocoa butter and natural vitamin e, this superior cream has been carefully formulated to both cleanse and moisturise your baby's nappy area. Organic essential oils of chamomile and rose have been included to help soothe and calm irritated skin. Ideal as an all-over moisturiser for the entire family, this cream doubles as an excellent hand and nail cream or make-up remover for Mum.
Aromababy Pure Hair Cleanse with Organic Geranium - This gentle, low-sudsing formula provides a mild cleansing action without stripping away the natural, protective oils from the hair and scalp.
Aromababy Baby Bath Gel with Organic Lavender & Chamomile - Use this pure and gentle, sulphate-free cleansing gel for bathing babies and children.
Aromababy Barrier Balm - Uniquely formulated to help soothe and care for skin since 1994 and the only balm of its kind – there's simply nothing quite like it.
Aromababy proudly made in Australia!
Perfect for gifting. Presented in a beautiful gift box.
document.addEventListener('DOMContentLoaded', function() { function isIE() { const ua = window.navigator.userAgent; const msie = ua.indexOf('MSIE '); const trident = ua.indexOf('Trident/'); return (msie > 0 || trident > 0); } if (!isIE()) return; const hiddenInput = document.querySelector('#product-form-template--15424738132200__main input[name="id"]'); const noScriptInputWrapper = document.createElement('div'); const variantSwitcher = document.querySelector('variant-radios[data-section="template--15424738132200__main"]') || document.querySelector('variant-selects[data-section="template--15424738132200__main"]'); noScriptInputWrapper.innerHTML = document.querySelector('.product-form__noscript-wrapper-template--15424738132200__main').textContent; variantSwitcher.outerHTML = noScriptInputWrapper.outerHTML; document.querySelector('#Variants-template--15424738132200__main').addEventListener('change', function(event) { hiddenInput.value = event.currentTarget.value; }); });
{ "@context": "http://schema.org/", "@type": "Product", "name": "Aromababy", "url": "https:\/\/www.victoriasforflowers.com.au\/products\/aromababy", "image": [ "https:\/\/www.victoriasforflowers.com.au\/cdn\/shop\/products\/aroma_500x.jpg?v=1675048366" ], "description": "Aromababy Baby's First Gift PackFrom Australia's first natural baby brand, Aromababy.\n\nAromababy Natural Powder with Organic Lavender - Our Natural Powder made with organic lavender to help to care for delicate skin and absorb moisture after each nappy change. 100% natural. Talc free.\nAromababy Moisturising Nappy Change Cream with Organic Chamomile - Enriched with cold pressed sweet almond oil, cocoa butter and natural vitamin e, this superior cream has been carefully formulated to both cleanse and moisturise your baby's nappy area. Organic essential oils of chamomile and rose have been included to help soothe and calm irritated skin. Ideal as an all-over moisturiser for the entire family, this cream doubles as an excellent hand and nail cream or make-up remover for Mum.\nAromababy Pure Hair Cleanse with Organic Geranium - This gentle, low-sudsing formula provides a mild cleansing action without stripping away the natural, protective oils from the hair and scalp.\nAromababy Baby Bath Gel with Organic Lavender \u0026amp; Chamomile - Use this pure and gentle, sulphate-free cleansing gel for bathing babies and children.\nAromababy Barrier Balm - Uniquely formulated to help soothe and care for skin since 1994 and the only balm of its kind – there's simply nothing quite like it.\n\nAromababy proudly made in Australia!Perfect for gifting. Presented in a beautiful gift box.", "brand": { "@type": "Thing", "name": "Victoria's Flowers \u0026 Gifts" }, "offers": [{ "@type" : "Offer","availability" : "http://schema.org/InStock", "price" : 64.95, "priceCurrency" : "AUD", "url" : "https:\/\/www.victoriasforflowers.com.au\/products\/aromababy?variant=44259906224360" } ] }